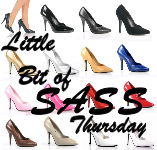 Happy Thursday! One more day closer!
Here are some sassy pics to hold us over until the weekend!
This dress is incredible. If I had the back and the budget, it would be mine.
I just really want this skirt. I'd wear it with a shirt that covers my midriff, though - I'm not THAT sassy.
This makes me laugh and then feel instantly sorry for the poor, animated cactus. Everybody needs hugs!
Amazing.
Aw, band geek jokes are fun.
And finally, my favorite this week:
I want to frame this and hang it in my kitchen.
Have a great day, everyone!