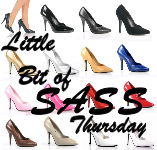 First things first, today is the last day for the

Limbo Jewelry Giveaway

! Make sure you enter, I will announce the winner tomorrow! :)

Now let's sass it up, shall we?


Definitely keeping these commandments in mind as I plan for our party on Saturday. Chicago bloggers, want to come? Let me know!! :)
Two questions: have any of you tried this and does it work? Fingers crossed it does and takes minimal time.
Want. Need. Would look good with my hair. Justified.
If I ever saw this sign outside a bar I would immediately stop what I was doing and enter...and partake in the special.
Nerd jokes are the best!


Must try this on a non-lazy day.
"I'll Get You My Pretty" has so much more meaning now.
Pinned this gem from

Stephanie of Bourbon and Glitter

. It's definitely my favorite this week:

Amazing, right?