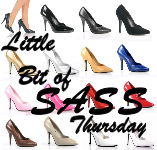 Happy Thursday! Let's sass it up!
Let's get the dorky one out of the way first:
Ohhhhhhh!
Am I alone in this?


Love the strut.
Well that's unfortunate.
And now for a section I would like to call "Why didn't I think of that?!?!"
I really want to see this at a store.
Where was this guy when I gave a free hug on Michigan Avenue?
And now for my favorite this week:
I would absolutely partake in a free air guitar sesh.
Now I pose a question to all of you: would any of you be interested in linking up on Tuesdays with classy pictures and Thursdays with sassy pictures? Could be fun...let me know! :)