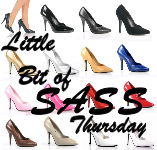 It's been a busy week! I'm so happy it's flying because this weekend is packed with fun!
Here's some sass to hold us over until the weekend:
If a monkey can strike some sass, so can all of us. Those are words to live by, friends.
I might have to use this in the future...or at least think it.
I don't normally swear on the blog, but, sorry Mom, this is pretty funny.
Cleverness is one of my favorite things.
I audibly giggled when I read this. The ridiculousness factor is awesome with this one.
Bah! So true!
Don't you hate when that happens?
My favorite this week: