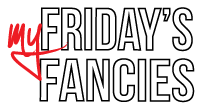 Happy Friday, party people!

I am so excited for the Game Day Friday's Fancies theme at

long distance loving

today.

By now you all know of my love for the Steelers, so obviously that's the team I am going with for today's post.

OK if you didn't know I love the Steelers here's why: my parents are from Pittsburgh and raised us fans. We visit there often since my family is huge and it's a pretty city. Honestly one of my first memories is sitting in the basement with my family on my dad's lap while he yelled at the Steelers on TV. I've been a fan my whole life, through good times and bad times, Super Bowls and losing seasons. It's fun to cheer for them every week even though most of their games give me heart attacks!

It's OK if you don't like the Steelers. Most of my friends truly hate them. It doesn't bother me. Living in Ohio my Browns and Bengals friends always gave me grief and living in DC (close proximity to those gross Ravens in Baltimore) I got my fair share of jeers. Whatever, we can all agree that football is awesome, so that's all that matters!

Here's my game day garb and an inspired look. What? Black and gold is an awesome color combo! I couldn't resist!

Let's break it down.

I love a good jersey. I always get the Male Youth Large and it fits perfectly. You will never see me in a pink jersey. I just can't get behind them. I don't have a Polamalu jersey (like the one pictured) but I do have Ward and Bradshaw, which I love. I actually do have Terrible Towel earrings. Flats are key for me because if I'm at the bar I'm standing (and jumping, and yelling, and dancing). Oh and the Yuengling reminds me of the Steelers Bar in DC, so that's my drink of choice during the games. By the way, it sucks you can't get it in Chicago!

I thought it would be fun to do a game day-inspired look as well. I classed it up with some hot boots, gold clutch and a

Dark & Stormy

. Throw in some simple baubles, paint my nails red, and boom. Ready for a night out.

What's your favorite team or teams?

Have a happy weekend!