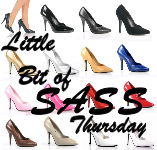 Hi there!
I know on Thursdays I normally post funny pictures from my
Sassy Pinterest Board
. Today, however, I actually have a sassy evening to share.
Last night I hosted a Ladies Night with some co-workers. One gal (another Mary, actually) has a secret bartending talent and all of us had to see her in action!
We ran to the store after work, popped some frozen pizzas in the oven, and got to mixin'!
Mixologist Mary (pictured center Left) showed us how to make the perfect Cosmo, Skinny Girl Martini, vodka martini with bleu cheese-stuffed olives, and - my favorite - a French Martini. YUM! She even showed us how to make the cute curly lemon peels!
A couple of those cocktails and this group of gals sure did get a little sassy!
(Just ask Andrew and Ed, who sat shaking their heads and laughing nearby)
The dip pictured is the
Taco Dip
from Gina at skinnytaste.com. Check it out! I also served her
Pumpkin Pie dip
with apples and graham crackers. YUM.
We do love our little get-togethers. I'm not sure what we will do next but I know it will be a good time!
Do you have a favorite Ladies Night theme? Please share in the comments!