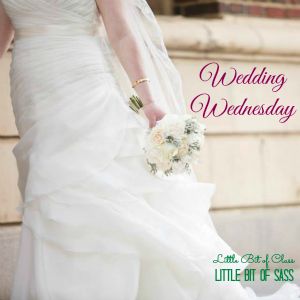 Happy Wedding Wednesday!
I did not make the time this week that my next planned post deserves, so please link up without me! All of you should share your stories even if I was too wrapped up in my own life to write.
I'm having jaw and migraine issues, so if I don't need to be in front of a computer screen then I'm not. I'll be fine, just hurting a little lately.
Anyway, I hope your week is going well!
Please come back next week for my post about our awesome send-off!!
Missed a Wedding Wednesday post? Here are the big ones:
The Music (Andrew plans to write this!)
The Send-Off
The Honeymoon
Wedding Wednesday Goodbye (Wedding Video)
---
You are next...

Click here to enter
This list will close in 7 days, 16 hrs, 18 min (9/3/2014 11:59 PM North America - Central Standard Time)