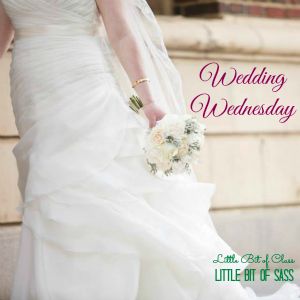 Happy Wedding Wednesday!
This is my last post in the link-up, so it's not
entirely
happy on my end. I am sad that I will no longer participate in this wonderful community. As a reminder,
Kristyn
will host the link-up moving forward, so please continue your posts with her starting next week. I will still read your posts, of course, because I sure do love your content, so you aren't getting rid of me that easily ;)
I have written this post in my head many times, but never put thoughts to paper.
To write it made it seem so...final.
Also, everything in my head sounds so...dramatic. ;)
I am torn about how I feel right now. I'm actually shaking my head and rolling my eyes as I type.
The drama is palpable. Goodness I'm silly. This is just a link-up, after all!
But to me, this weekly theme has been more than a simple collection of words once a week.
Please indulge me, dear readers and fellow bloggers, as I say thank you...
...for joining me week in and week out.
Thank you for sharing your story, your own dramatic experiences, your own funny anecdotes, your own struggles, your own joys.
Thank you, as well, for reading
my
stories, providing words of encouragement, and for doing what every bride wants: no matter what the post was about, you always told me
I was right
. Gosh that felt good. Your support confirmed any wavering thought and stifled any lingering concerns. Not that I had a
ton
of worries, but still. I felt the love.
Thank you for respecting my choices and opinions. One of my favorite things about this link-up is the variety! All of us had (or is about to have!) very different themes, colors, traditions, etc. and I love how accepting the community was, and continues, to be.
(Oh and a very obvious thank you to everyone who came to the wedding! I know you got a note in the mail, but goodness that's not enough! It never will be! I mean, really, how can I appropriately thank you for contributing to the most important and lovely day of our lives?!?!? Thank you!!!)
Also, thank you for the compliments. Before I continue, I must preface that I loved everything about our day. We were happy with every decision, every unique feature, every last detail. The day really was the BEST ever to us! The only thing that I, alone, regret (again I am shaking my head and don't want to admit it but I'm trying to be "real" and write the "hard stuff") is that I was so unhappy with how fat I looked. Ugh. There. I said it. Our photos are beautiful, my hair and make-up looked fantastic, Andrew thought I looked gorgeous, guests (and readers!) overwhelmed me with compliments...but I couldn't get past how
I
felt that I looked: fat. I tried so hard to look slim and fit but gosh darn it, I did not. And I hate myself for thinking that...and for
still
not being able to get over it. Please know that I appreciate the compliments. In fact, posting as often as I did and hearing the compliments helped me get closer to accepting how I looked. Each sweet word was a step, so thank you and I'm sorry. I'm sorry if it ever seemed that I was fishing for compliments.
Well there it is. It took me until my last post to write my honest opinion of myself. I couldn't get over myself amid the beauty of the sacrament we celebrated and the fun of the party that continues to bring a smile to my face with every memory (and there are so many memories!). Ugh!
God is good, family is fantastic, friends are fabulous and the wedding was friggin' wonderful!
Everything was awesome except for my own vanity!
Alright, back to the fun!!!
Finally, thank you from the bottom of my wedding-loving heart for taking this journey with me.
It's been real, it's been fun...and it HAS been real fun!!!!
Here is a quick glimpse of our day (except the flash mob isn't in it! Want to see that incredible video?
Click here!
)
Andrew and Mary April 26, 2014
from
Eye on the World Productions
on
Vimeo
.
Thanks again :)
Missed a Wedding Wednesday post? Here are the big ones:
.................................................................
Have a wedding story that you want to share? Please join the linkup!
All I ask is that you grab the button, link back to me and visit the other blogs!


Please share the linkup on social, too, if you wish!
@marysue20 is the name, #WeddingWednesday is the game.

I'm joining another linkup as well!