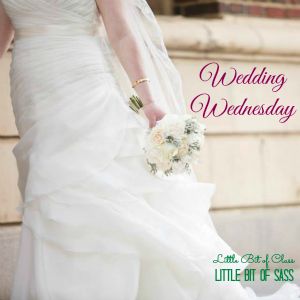 Happy Wedding Wednesday!
A quick housekeeping note:
As my wedding posts wind down, Kristyn is stepping up!
Kristyn from Chits and Giggles
is my old partner in co-hosting linkups crime and is back to co-host!
Kristyn
will co-host with me through my last few posts and then take over once I am finished.
End housekeeping note. :)
I'm really excited to share our send off with you today. This is all thanks to my Mother-in-Law who planned it! I am so happy that she took charge because we had no idea what we wanted to do. We just knew that we did not want to deal with sparklers. Even though sparklers are pretty, I am clumsy and sparklers don't exactly pair well with clumsy.
Andrew's Mom was a genius and thought of glow sticks!
How unique!
I have never in all of my Pinterest research and wedding planning seen a send off including glow sticks! Yay!!
(Isn't it funny how excited I get when I know the things we did AREN'T on Pinterest and I know NO ONE else who has done the same thing?!? Am I alone in this excitement??)
Here are a couple of cute, albeit blurry, photos, but you get the idea:
It was such a thrill to go through the glow-filled tunnel amid cheers and high fives!
Not only did our send-off include a tunnel of guests waving glow sticks, it also included a ride around the city in a pedicab! Andrew's Mom contacted
ECT Pedicab
and arranged for our little jaunt around Columbus. The owner of the company drove us!
I love this photo of us hugging our new moms before riding off!
Our videographer stayed for the whole event, so we have a clip of this in both of our highlight videos! I'm so happy he was still there for it and I'm very thankful guests took their own photos! The send off is a huge reason why I am happy that we had a wedding hashtag!
Our ride was awesome! Columbus added some cool features to downtown that I had not seen. It was also really fun to point out places to Andrew, like places my friends and I bar-hopped in college to theaters to the site where the best mall ever stood that is now a really cool concert and event venue. Oh, memories!
The best part of the ride, though, was the cheers from Columbus folks! Many people were out and about on the lovely April evening, so we definitely had audiences wherever he pedaled!
Everyone who saw us yelled and cheered and made us giggle. It was so fun! Of course our driver honked his horn around the crowds to draw attention. My mouth hurt from smiling so much! It felt like we were in our own private parade and everyone was so excited to cheer us on!
Well, some jerks said things like, "what were you thinking, buddy?" to Andrew and other such anti-marriage comments. But that silliness was few and far between. I was really impressed by the genuine encouragement from Columbus that night.
Our driver rode us around downtown for about 40 minutes and took us straight to our hotel.
Honestly it was pretty magical to have that alone time with Andrew immediately following all of the excitement from the day and events leading up to it. Riding around Columbus was the perfect way to relive the day, reflect on the sacrament we celebrated, thank the good Lord for all of the incredible generosity of our family and friends, and celebrate our new adventure as a married couple. I am beyond grateful that Andrew's Mom planned a send off for us. Otherwise we probably just would have left without fanfare, and what fun is that?!?!
Did you have a send off at your wedding or do you plan to have one in your upcoming wedding?
As a wedding guest do you like send-offs? I have always personally liked them. It's a fun last hoorah, if you will, to celebrate the couple...and is also the perfect signal to the fun groups of people still up for partying to organize an after-party if there wasn't one already planned!
And for Pinterest/Instagram:
Missed a Wedding Wednesday post? Here are the big ones:
The Music (Andrew plans to write this!)
The Honeymoon
Wedding Wednesday Goodbye (Wedding Video)
.................................................................
Have a wedding story that you want to share? Please join the linkup!
All I ask is that you grab the button, link back to me and visit the other blogs!


Please share the linkup on social, too, if you wish!
@marysue20 is the name, #WeddingWednesday is the game.

I'm joining another linkup as well!